Cottrill Surveying, LLC is a small, family-owned surveying and engineering company located near Mt. Sterling, Ohio. The company was started in 1983 by current owner/operator James "Randy" Cottrill, PS. Our client lists include individuals, villages, cities, counties and the State of Ohio. The company was expanded in 2015 to include the engineering services with the addition of Nathan Cottrill, PE.
For over 30 years, Cottrill Surveying has provided its clients with a quality product, in a timely manner for a competitive fee. We utilize up-to-date GPS, surveying equipment and software. We are licensed and insured to provide services throughout Ohio with the majority of our work concentrated in Fayette, Franklin, Madison, Pickaway, Ross and adjoining counties.
For more information regarding our work,
contact any listed county engineer office for reference.
Do You Need A Survey?
"click" button on left for detailed process.
Free Estimate
"click" button on right - fill out form - hit "Submit"
or call us at 740.869.3811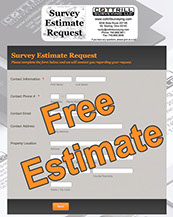 Cottrill Surveying, LLC
PROFESSIONAL LAND SURVEYING
James Randall Cottrill, P.S.
Owner/Surveyor
Nathan Cottrill, PE, SIT
Engineer
Matt Wood
Survey Crew Chief

James Randall Cottrill, P.S. - Owner/Surveyor
Randy has been self-employed since 1983 with a background in construction and civil engineering. After graduating high school, he joined the Navy Reserve and later completed his Associates in Civil Engineering at Shawnee State University in 1975.
His construction experience includes working for: McNally Pittsburgh in Wellington, Ohio; Davis McKee Construction in Columbus, Ohio; and Kokosing Construction in Columbus, Ohio. He has also worked for Central Surveying of Reynoldsburg.
After receiving his professional licensing in 1983, Randy began surveying evenings and weekends under the company name "James R. Cottrill, PS." In 1985, he started Cottrill Surveying with his late wife, Connie, out of his home near Mount Sterling, Ohio. Since opening for business, Randy has trained two licensed surveyors who now both have their own practices.
In his civic life, he is a member of Heber Masonic Lodge #501, Scottish Rite Mason, Aladdin Shrine, a member of the Mount Sterling United Methodist Church, as well as a member of the Fayette County Chamber of Commerce. In his personal life, he is married to Carol Cottrill and they have six children and five grandchildren.
Nathan Cottrill, PE, SIT - Engineer
Nathan is Randy's youngest child. At a young age, he began working with the field crews during his breaks in school. He received his Bachelors of Science in Civil Engineering at Ohio Northern University in 2008 and his Certificate of Land Surveying at Columbus State in 2012.
After graduating ONU, he began his professional career at Burgess & Niple, Inc. in their facility inspection section. There he performed well over 1,000 bridge inspections in 15 states. Using adapted rock climbing techniques, Nathan completed over 50 fracture critical inspections on long-span signature bridges such as the New River Gorge Bridge in Fayetteville, WV, the Astoria-Megler Bridge in Astoria, OR and Dames Point Bridge in Jacksonville, FL. Nathan also obtained, organized and performed load rating data and analysis on various structures structure types.
After obtaining his Professional Engineering License in 2012, Nathan began shifting his focus back into survey.
In his civil life, he is a member of Grove City Masonic Lodge #689, Scottish Rite Mason and the Aladdin Shrine (Brutal Brothers). In his personal life, he is engaged to Ciara Hasted and has one son, Judah Cottrill
Matt Wood - Survey Crew Chief
Matt has been working for Cottrill Surveying since 1997. He is a 1996 graduate of Madison-Plains High School.
He runs our field crew and has managed several other field crew members since 2002. He is fully trained using all our surveying equipment as well as manage several office tasks. Matt also assists and is fully trained using our surveying software. Matt has grown to be a loyal, hardworking employee over the years and is capable of answering most client's questions while in the field or the office.
In his personal life, Matt enjoys spending time with his son and daughter and resides near Mount Sterling, Ohio.
"At Cottrill Surveying . . .
we believe every job is important . . .
and our job is to do outstanding work each time . . .
so that you, our client, will recommend us to others" Cottrill Surveying, LLC normally operates a one field crew; but has the capabilities to split into multiple crews when needed. We use a Leica Robotic Total Station 1200 and Leica GPS Viva in the field, and Carlson Software with IntelliCAD.
We continually update our software & instruments to meet the latest requirements of all the counties we serve.
We do carry business insurance & errors and omissions insurance.

Since 1983, we have served many repeat and new clients alike. We provide our clients with the best quality drawings, legal description and personal copies. We are dedicated to assisting our clients through the county approval process and have a good rapport with all the county engineers, tax map offices and recorder offices in our service area. If you would like to contact your county's office, we have provided you a list of all contact information on this page. Please feel free to contact any of these offices to hear about their experience with our work.

Frequently Asked Questions:

FAQ: What is the difference between a Boundary Survey and a Mortgage Survey?
Answer: Mortgage inspections are often confused with a boundary surveys. A mortgage inspection (O.A.C. 4733-38) is intended for use by a mortgage lender or title insurer to facilitate the sale or purchase of a property. It is not considered a boundary survey (O.A.C. 4733-37) and no monuments (stakes or pins) are set by the surveyor. A mortgage inspection should NOT be used for establishing fences, building lines, ect.
FAQ: Why do Boundary Survey cost as much as they do?
Answer: Boundary surveys consists of three major components: research, field work and office work. Before the field work is started, each piece of land is researched at the county for previous deeds and surveys preformed in the area. These deeds are drawn in a CAD program and fit together as best as possible. Then we go into the field to located known, undisturbed monumentation. This information is often brought back to the office and put together in accordance with surveying standards. Monumentation is verified and any missing markers are set during a follow-up site visit.
NOT SURE WHAT TO DO NEXT?
Follow the arrows below...

Boundary
SURVEYS (RESURVEY)
FarM
SURVEYS (New & Resurvey)


8256 State Route 207 N.E.
Mt. Sterling, Ohio 43143


nathan@cottrillsurveying.com
randy@cottrillsurveying.com
matt@cottrillsurveying.com
http://www.cottrillsurveying.com
IT'S A GOOD TIME TO TALK!
COPYRIGHT COTTRILL SURVEYING, LLC, ALL RIGHTS RESERVED - WEB DESIGN VAUGHN LEE MARKETING